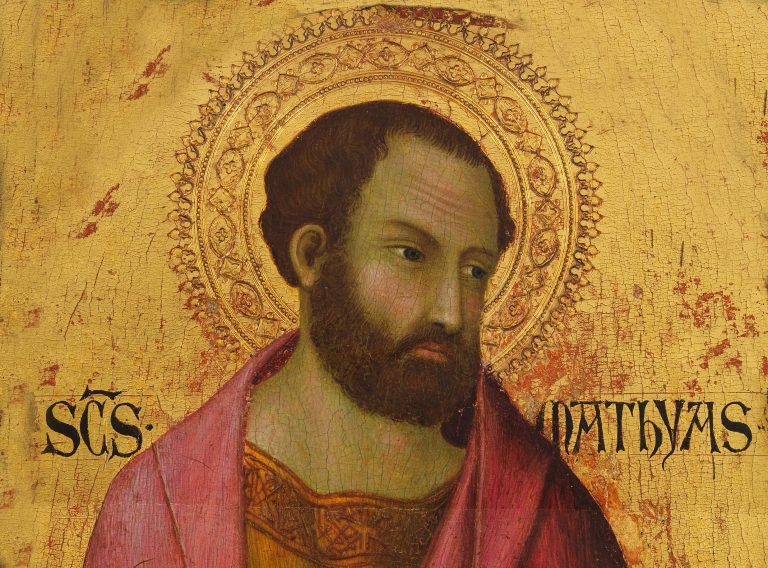 St Matthias Apostle
Whilst little is known of Matthias' life, there are strands of tradition that give us some hints as to his ministry after his calling to replace Judas as one of the twelve. We can start with what we discover in Acts.  Peter's criteria for choosing this new apostle is clear, he had to have been with them all from the beginning, "all the time that the Lord Jesus went in and out among us", so that he could be a true witness to everything Jesus had said and done. Two people fit the bill: Matthias and Joseph. The apostles prayed and then cast lots, Matthias was chosen.
We know that a lost Gospel of Matthias in the New Testament Apocrypha has been attributed to him according to Early Church Fathers but perhaps more reliable is the early writing of St. Clement of Alexandria, who claimed Matthias insisted on the importance of mortification.
The Byzantine historian Nicephorus Callistus Xanthopoulos,, and the fifth century Synopsis of Dorotheus, wrote that Matthias was said to have preached the Gospel in Judea and the region of Colchis (Ethiopia), other traditions tell of him preaching in Cappadocia and round the coastline of the Caspian Sea ( modern day Georgia). Nicephorus wrote of his being martyred, Dorotheus claimed he died at Sebastopolis and was buried near the Temple of the Sun in that place. Others claim he met his death by crucifixion in Colchis or by stoning and beheading in Jerusalem. Hippolytus of Rome, however, contends that he died of old age. Whatever the true account we honour him as one of the twelve who went out at the command of Christ to preach and teach the Good News of salvation after Pentecost.
His Relics
St. Helena, Constantine's mother, is said to have brought St. Matthias' relics from Jerusalem and divided them between the Basilica of St. Mary Major in Rome and what is now the Benedictine abbey church at Trier. Historical records dating back to the 5th century indicate the existence of a monastery here, built around or on the graves of the first Christian evangelists sent to Trier. However there is some controversy as to the exact date of the translation of the relics of St Matthias, what is known is that after the disastrous fire of 822 when the Normans destroyed the abbey and the city, rebuilding took place and the relics were discovered in the old building and then enshrined in the Romanesque crypt of the new abbey where they still remain and are venerated by many pilgrims each year.