Day of Prayer and Reflection for Lebanon in the Vatican
Pope Francis met with Church leaders from Lebanon for a Day of Prayer and Reflection, on 1st July, to contemplate the grave situation that afflicts Lebanon. An unprecedented political, economic and social crisis, brought about by gridlocked government, financial meltdown, the explosion in the port of Beirut, and the COVID-19 pandemic, has brought the country to its knees. Hyperinflation, the devaluation of the Lebanese currency, and rationed fuel and electricity, have pushed half the population below the poverty line and severely threaten the survival of schools and hospitals.
"Lebanon's vocation", Pope Francis said, is to be "a land of tolerance and pluralism, an oasis of fraternity where different religions and confessions meet, where different communities live together, putting the common good before their individual interests. Let us neither desist nor tire of accompanying the Lebanese people in this plea, imploring heaven for that peace which men and women find so difficult to build on earth."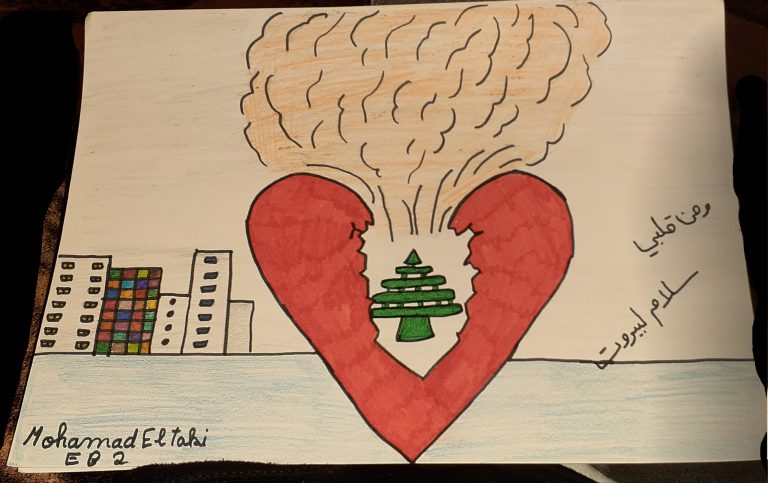 Translation from Arabic: From the bottom of my heart, peace to Beirut.
Drawing by Mohammed Eltaki of the Immaculate Conception School Beirut.
Why we need your help
FACE is working in partnership with its sister branch, L'Oeuvre d'Orient, to support urgent projects in Lebanon:
Hospital of the Rosary, Gemmayze – Located close to the port of Beirut, the hospital suffered extensive structural damage as a result of the explosion in the port. One nurse lost her life and many patients and staff were injured. The hospital desperately needs funding for repairs and new equipment.
Baabda School of the Sisters of Charity of Besançon – A primary and secondary school providing education to 800 children from socially disadvantaged families, many of whom are refugees displaced by war. The Sisters also run a special care unit for children with special needs. Impoverished families have been hard hit by the economic crisis and are finding it increasingly difficult to survive.
Hope Project, Lebanon – The Hope Project provides training and mentoring support to help young people start up their own business and thereby develop a source of income and self-sufficiency. The Hope Centre will promote small businesses that produce agricultural and manufactured goods, thereby reducing the country's dependency on imports. Funding is urgently needed to support 500 young entrepreneurs. 
Sacred Heart Hospital, Baabda – Providing healthcare to more than 11,000 patients per year, and specialising in neonatal, pediatric and radiology services as well as cardiovascular surgery, the hospital suffered extensive damage to its structure and equipment in the port explosion, and desperately needs funding for repairs and  new equipment.
Technical Institute 'La Sagesse', Achrafieh – For more than 30 years, the Institute has provided technical and vocational education to more than 200 students. All its windows and doors were blown out in the explosion and more than 20 unstable walls have had to be torn down. All furnishings and computer equipment were lost. Urgent funding is needed for repairs, furnishings and new equipment.
Your donations will be used to support: 
Structural repairs to hospital buildings

Hospital equipment (beds, electricity generators, new lifts, lighting, heating and air conditioning, computers, surgical equipment, dialysis units and operating theatre)

Structural repairs to school buildings

School equipment (desks and chairs, computers, electricity generators, lighting, heating and air conditioning, books and teaching materials)

Pupils' tuition fees and hot meals

Grants to young people to start up their own business, including costs of training and mentoring
Your donation
You will enable us, through our partnerships on the ground, to deliver quick and effective support to schools, hospitals and vocational training centres in Lebanon.
Your donation will make a huge difference to many lives.
Your act of giving will bring a message of love, solidarity and hope to our brothers and sisters in the Land of Cedars. 
Now more than ever they need our support. 
The port of Beirut following the explosion on 4th August 2020