His Eminence Cardinal Michael Fitzgerald, M. Afr., OBE
Born in Walsall in 1937, Cardinal Fitzgerald is an expert on Islam, Christian-Muslim relations and interreligious dialogue in the Catholic Church. He was Secretary of the Pontifical Council for Interreligious Dialogue from 1987 to 2002 and the President from 2002 to 2006. He then served as Apostolic Nuncio to Egypt and Delegate to the League of Arab States from 2006 to 2012.
Cardinal Fitzgerald belongs to the Society of Missionaries of Africa (White Fathers). He was ordained priest in 1961. He was ordained bishop in 1992, and made archbishop in 2002. Pope Francis raised him to the rank of cardinal on 5 October 2019.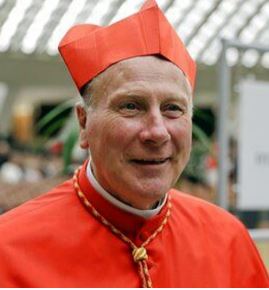 His publications include : Dieu rêve d'unité. Les catholiques et les religions : les leçons du dialogue. Entretiens avec Annie Laurent (Paris, Bayard Presse, 2005) ; and (with John Borelli) Interfaith Dialogue. A Catholic View. (SPCK, London & Orbis Books, Maryknoll, NY, 2006), both translated into Italian.
In December 2018, Cardinal Fitzgerald returned to his native England, more than 50 years after leaving it. He now resides in Liverpool, in the parish of St Vincent de Paul, which has been entrusted to the Missionaries of Africa.
In 2019, Cardinal Fitzgerald was appointed Patron of FACE, as well as principal advisor on inter-religious relations to its board of trustees. In so doing, a nineteenth-century synergy would seem to have re-appeared. Charles Lavigerie, later to become Archbishop of Algiers and founder of the Missionaries of Africa and Cardinal, was the first director-general of Oeuvre d'Orient (in 1856), of which FACE is the sister branch in the UK. Other Missionaries of Africa have also held this position.