Support for impoverished Christian children
Densely populated, the Gaza Strip is home to more than 2 million people who live in an area of 227 square miles. Refugees account for 66% of the population and more than 50% are children under 18. Home to some of the oldest Christian churches in the world, Gaza's Christian heritage dates back to the fourth century. However, after the establishment of the Israeli state in 1948, Christians left the region in large numbers. Today, only 1,300 Christians remain in Gaza, of which 90 % are Greek Orthodox, 9% are Roman Catholic, and the rest, of Protestant denominations.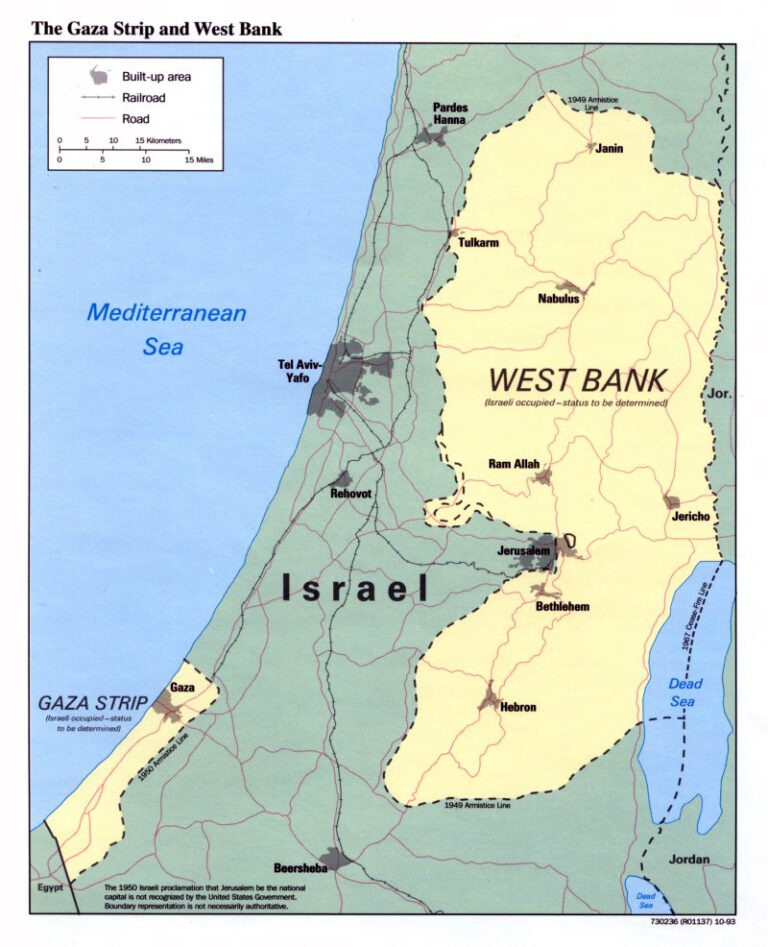 Fifteen years of escalating tensions and armed conflicts
Since the Sunni-Islamic organisation, Hamas, took power in Gaza in 2007, tensions and conflicts with Israel have led Israel and its allies to impose sanctions and a blockade of the Gaza Strip. These restrictions have limited Gazans' freedom of movement. Christians face restrictions not only to seek solidarity with the wider Church, but also to travel to the holy sites, for which they must apply for travel permits to the Israeli authorities. Israel's sanctions have also crippled the Gazan economy, accounting for an increase in unemployment to more than 60% and plunging more than 65% of the population below the poverty line. Tensions have escalated in the past two years, with Israel and the occupied West Bank experiencing the deadliest wave of violence since 2015, in which hundreds of innocent people, including children, lost their lives. In May 2021, much of Gaza City was destroyed by shelling and air raids, causing hundreds of deaths, thousands of injuries, and damaging thousands of homes. Healthcare centres and WASH facilities were also destroyed. Electricity supplies have been disrupted, leaving more than 1 million people without safe drinking water or sanitation facilities. At least 331 schools were damaged, including 136 public schools, which has affected more than 120,000 children. However, the violence continues in 2023 in spite of a ceasefire brokered by Egypt and which came into force in August 2022, with violence still spreading across the region and beyond. In February 2023, an Israeli security force operation in Nablus left 11 Palestinians dead and more than 100 injured. Meanwhile, the situation in Jerusalem is becoming ever more fragile.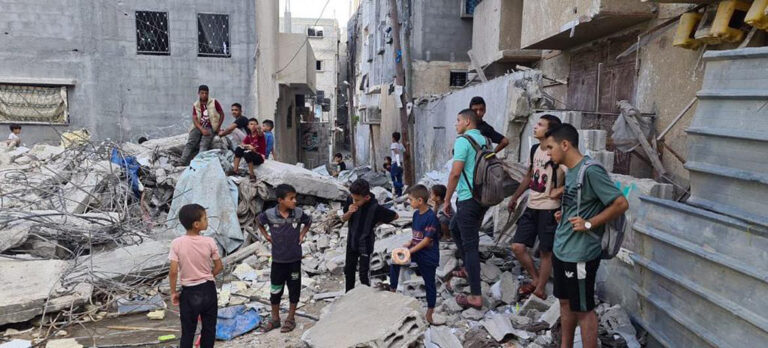 Destruction in Gaza following an Israeli strike in August 2022
Heavy toll on children's mental health
Prolonged exposure to violence has further impacted the psychological well-being of children. UNICEF reports that 17 Palestinian children were among those killed in Gaza in August. For many children, this was the fifteenth conflict in the past 15 years
Lynn Matar, aged 11, injured in an air raid on the Rafah Palestinian refugee camp in August 2022 
Pope Francis urged Israeli and Palestinian leaders 'to stop the clamour of arms and to walk the path of peace, with the help of the international community'. He called for 'unceasing prayers' for Israelis and Palestinians to 'find the path of dialogue and forgiveness, to be patient builders of peace and justice, opening up, step-by-step, to a common hope, to coexistence between brothers.'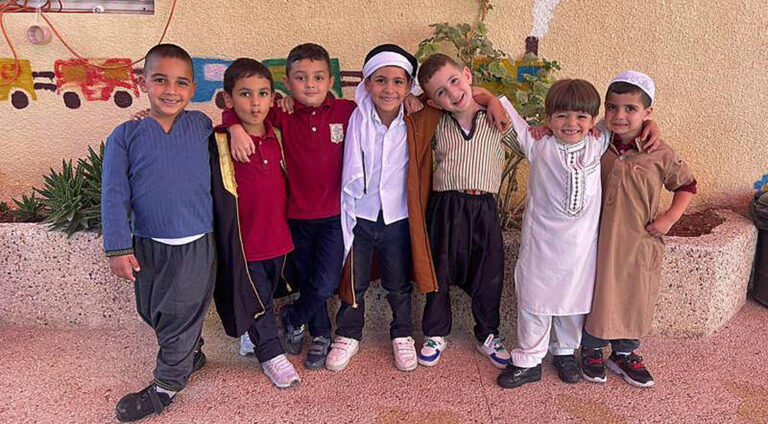 Why we need your help:
Years of conflict and isolation have left 80% of the population in Gaza dependent on international assistance and facing a very precarious social, political, economic and humanitarian situation. Infrastructure, economic activity and livelihoods have been destroyed. There are shortages of water, electricity and medicine. Approximately 575,000 people are living in eight refugee camps where widespread poverty, deprivation and unemployment are causing depression and increased violence. This situation has been severely compounded by the COVID-19 pandemic which widened the levels of destitution and unemployment. More than 2.45 million people, including 1.2 million children in the Gaza Strip, the West Bank and East Jerusalem, are increasingly vulnerable, and there has been a deterioration of the already worsening physical and mental health of the local residents. One third of the population is in need of psychosocial support, yet there is only one mental health hospital with fifty beds to serve the five governorates in the Strip.
Your prayers and support will make a huge difference to the lives of countless Palestinian families in desperate need.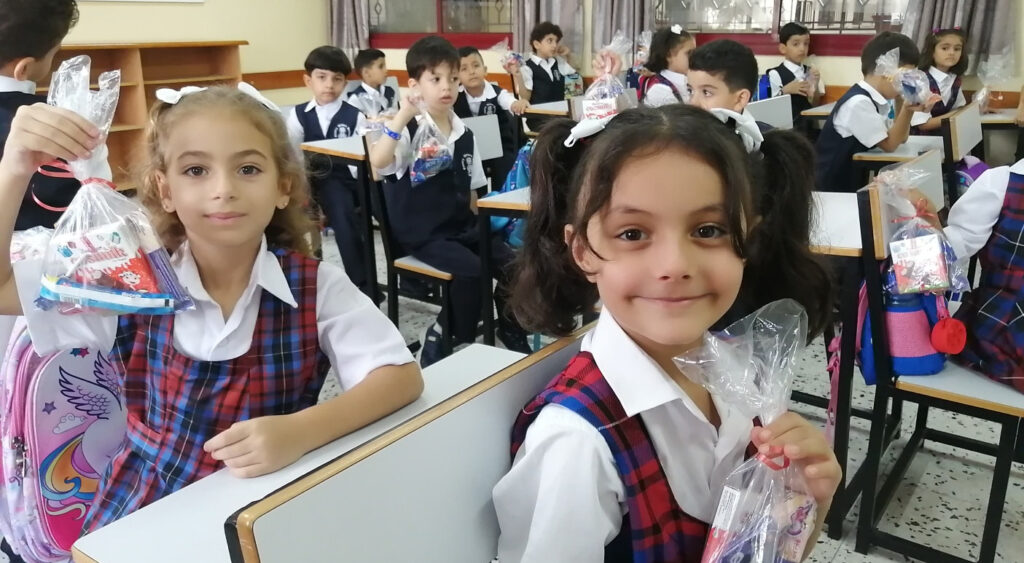 Our school project
The Rosary Sisters' School in Gaza City was founded in the year 2000, when it opened its doors to 160 pupils. By 2005, the school had 500 pupils in nursery and primary school. Currently, more than 1,000 girls and boys receive primary and secondary education up to 12th Grade. Most pupils are Muslim with a minority of Christian children. The Sisters' mission is to provide an excellent education to all children, regardless of faith or background, instilling values of equality, respect and service to the community that will enable pupils to flourish, reach their potential and full integration in society, and take an active role in the development of their country.  Children receive tuition in a broad range of key subjects, including English, French, Maths and Science, which are complemented with extracurricular activities such as Music, Computer Studies, Drama and Dabka (Palestinian popular dance). Vocational studies in secondary school help pupils to discern their future career paths.
The Rosary Sisters' School was damaged by air raids in the early hours of 11 May 2021. Fortunately, the school was closed at the time and the children were not there.  The school Principal, Sr Nabila Saleh, who lives with two other nuns in the school compound, said that the explosion caused the school structure to lean 3 inches and that she was 'overcome with fear and horror'. 'I hope there will be no more wars, because Gaza has had enough. Our children shouldn't live through any more wars because they leave bad memories' she said. Engineers saved the school from demolition and have repaired the damages.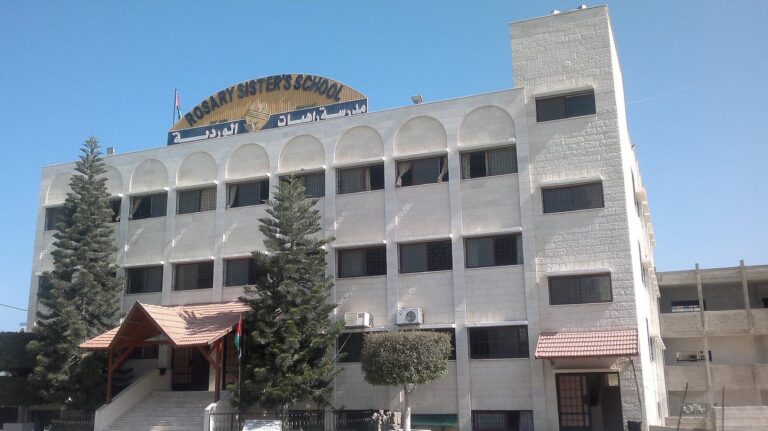 With more than 80% of the population of Gaza living below the poverty line, families are struggling and increasingly unable to make ends meet. The Rosary Sisters run a scholarship programme for children of impoverished families to whom they provide a free education throughout the year. However, during the academic year 2021-2022, the number of children needing financial support to cover the modest tuition fees increased from 15 in the previous year to 79.
With more and more families struggling to survive, the Rosary Sisters are appealing for urgent support to help more children continue their education. Through this project, 79 pupils will receive funding to cover the costs of tuition in the current year.
FACE is in direct contact with the Director of the Rosary Sisters School in Gaza and receives regular narrative and financial reporting directly from her. Visits to the schools are also carried out by our local agent to assess the impact of our work. FACE will report back on the project and the disbursement of the grant within 12 months. FACE-Oeuvre d'Orient has a comprehensive Safeguarding Policy in place.  
Please help us to raise £80,000 over Lent