Nature: The Syriac Catholic Church is an Eastern Catholic church in full communion with the Bishop of Rome.
Origin: The Early Church in Antioch was founded by the Apostle St Peter.   The Syriac Church branched from the Church of Antioch after the Council of Chalcedon in AD 512, and established union with the Bishop of Rome in 1783. 
Liturgy: West Syriac Rite 
Language: Syriac Aramaic (in the diaspora: French, English, Spanish)
Location: Lebanon, Syria, Iraq, Turkey, Palestine
(Diaspora: Argentina, Brazil, Venezuela, USA, Canada, Australia, France, UK)
Head:  His Beatitude Ignatius Joseph III Younan (born 1944, elected 2009)
Title: Patriarch of Antioch and all the East of the Syrians
Residence: Beirut, Lebanon
Membership: approx. 210,000
Website: www.syr-cath.or
Syriac Catholic Church
During the Crusades there were many examples of warm relations between Catholic and Syrian Orthodox bishops. Some Syrian bishops seemed favorable to union with Rome, but no concrete results were achieved. There was also a decree of union between Syrian Orthodox and the Catholic Church at the Council of Florence (Multa et Admirabilia of November 30, 1444), but this also came to nothing.
Jesuit and Capuchin missionaries began to work among the Syrian Orthodox faithful at Aleppo in 1626. So many Syrians were received into communion with Rome that in 1662, when the Patriarchate had fallen vacant, the Catholic party was able to elect one of its own, Andrew Akhidjan, as Patriarch. This provoked a split in the community, and after Akhidjan's death in 1677 two opposed patriarchs were elected, an uncle and nephew, representing the two parties. But when the Catholic Patriarch died in 1702, this brief line of Syrian Catholic Patriarchs died out with him.
The Ottoman government supported the Oriental Orthodox against the Catholics, and throughout the 18th century the Catholic Syrians underwent much suffering and persecution. There were long periods when no Syrian Catholic bishops were functioning, and the community was forced underground.
In 1782 the Syrian Orthodox Holy Synod elected Metropolitan Michael Jarweh of Aleppo as Patriarch. Shortly after he was enthroned, he declared himself Catholic, took refuge in Lebanon and built the still-extant monastery of Our Lady at Sharfeh. After Jarweh there has been an unbroken succession of Syrian Catholic Patriarchs.
In 1829 the Turkish government granted legal recognition to the Syrian Catholic Church, and the residence of the Patriarch was established at Aleppo in 1831. Catholic missionary activity resumed. Because the Christian community at Aleppo had been severely persecuted, the Patriarchate was moved to Mardin (now in southern Turkey) in 1850.
Steady Syrian Catholic expansion at the expense of the Syrian Orthodox was ended by the persecutions and massacres that took place during World War I. In the early 1920s the Patriarchal residence was moved to Beirut, to which many Syrian Catholics had fled.
The Syrian Catholic Patriarch always takes the name Ignatius in addition to another name. Although Syrian Catholic priests were bound to celibacy at the Synod of Sharfeh in 1888, there are now a number of married priests. A patriarchal seminary and printing house are located at Sharfeh Monastery in Lebanon.
The largest concentrations of Syrian Catholics are found in Syria, Lebanon, and Iraq. The common language is Arabic, although Syriac is still spoken in a few villages in eastern Syria and northern Iraq.
A community of nuns, known as the Ephremite Sisters or Daughters of the Mother of Mercy, was founded by the Syrian Catholic Patriarch in 1901. The community was dispersed during World War I, and reestablished in 1958. In 2003 the order had 11 sisters in Lebanon and six in Syria, along with ten novices. Since 1970 it has directed St. Joseph's Orphanage in Batha, Lebanon, which over the years has given shelter to some 900 girls.
A diocese for Syrian Catholics in the United States and Canada, Our Lady of Deliverance of Newark, was founded in 1995. It is headed by Bishop Yousif Habash (317 Avenue E, Bayonne, NJ 07002). The diocese includes 11 parishes and missions in the United States, and three in Canada. Msgr. Michael Berbari is Patriarchal Vicar of Australia and New Zealand (60 Kingsland Road, Beralla 2141).
In a letter to him dated January 25, 2008, Pope Benedict XVI accepted the resignation of Syrian Patriarch Ignatius Peter VIII, who had been in office since 2001. The Pope acknowledged that the Patriarch had resigned because of his "concern for the spiritual progress of the faithful and for harmony among bishops." At a meeting that took place in Rome from January 18 to 20, 2009, the Syrian Catholic bishops elected Bishop Joseph Younan of the Eparchy of Our Lady of Deliverance of Newark, USA, as the new Patriarch.
From The Eastern Christian Churches: A Brief Survey, by Father Ronald Roberson, CSP 
Extract published by kind permission of the Pontifical Oriental Institute © 1999 Pontifical Oriental Institute
His Beatitude Ignatius Joseph III Younan
Patriarch of Antioch and all the East of the Syrians
Ephrem Joseph Younan was born at Hassaké, Syria, on November 15, 1944, and ordained a priest on September 12, 1971. He served as director of the Seminary of Charfet for two years, as Director of Catechesis of the diocese of Hassaké for seven years, and as pastor of the Church of the Annunciation in Beirut up to 1986.
In 1986 he was sent to the United States to establish missions for the Syrian Catholic faithful. He founded a mission in Newark, New Jersey (Our Lady of Deliverance) and others in North Hollywood (Sacred Heart) in 1991 and in San Diego (Our Mother of Perpetual Help) in 1994.
On November 6, 1995, Pope John Paul II erected the Syrian Catholic Eparchy of Our Lady of Deliverance in Newark for all the Syrian Catholics of the United States and Canada, and appointed Ephrem Joseph Younan as first eparch (bishop). He was thus consecrated bishop on January 7, 1996, by Ignatius Antony II Hayyek and served in the United States until his election as Primate and Patriarch of the Syriac Catholic Church on January 20, 2009. Pope Benedict XVI granted him ecclesiastical communion on January 22, 2009, in accordance with Canon 76 § 2 of the Code of Canons of the Eastern Churches.
Along with Cardinal Leonardo Sandri, Prefect of the Congregation for the Oriental Churches, Patriarch Ignatius Joseph III Younan served as a co-president of the October 2010 Special Assembly of the Synod of Bishops for the Middle East in the Vatican.
The patriarch has visited members of his flock in various areas of the diaspora, including Australia and the United States.
He has been very active in the request for the beatification for Flavianus Michael Malke, who was beatified in 2015.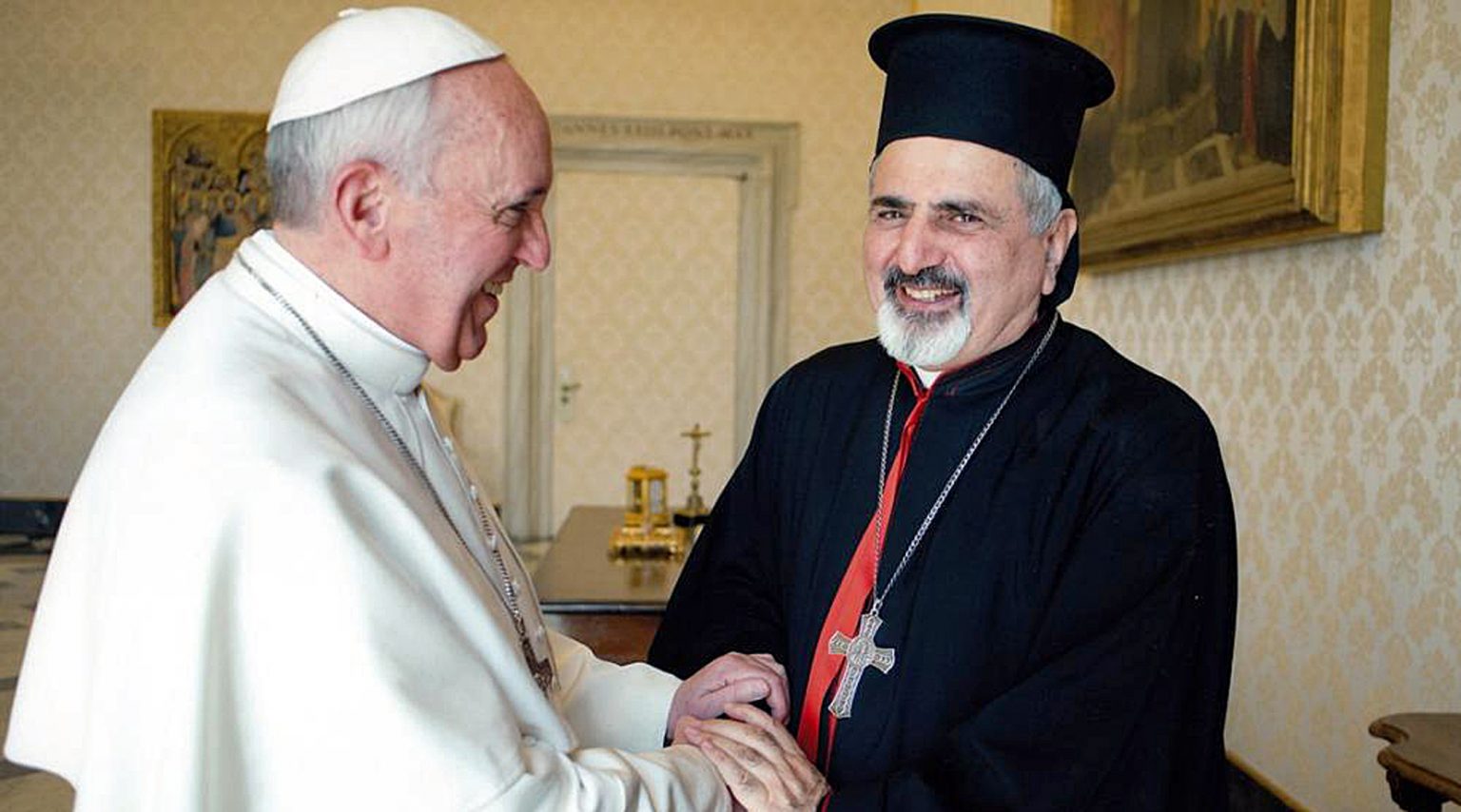 Middle East diocesan jurisdictions
Syriac Catholic Patriarch of Antioch
Syriac Catholic Patriarchal Eparchy of Beirut, Lebanon
Metropolitan Syriac Catholic Archeparchy of Damascus, Syria (without suffragan)
Metropolitan Syriac Catholic Archeparchy of Homs, Syria (without suffragan; titular sees of Hama and Nabk are united with it)
Syriac Catholic Archeparchy of Aleppo, Syria
Syriac Catholic Archeparchy of Hassaké-Nisibi, Syria
Syriac Catholic Archeparchy of Mossul, Iraq
Syriac Catholic Archeparchy of Baghdad, Iraq
Syriac Catholic Archeparchy of Hadiab-Erbil, Iraq
Syriac Catholic Eparchy of Cairo, Egypt
Old World missionary jurisdictions
Syriac Catholic Patriarchal Exarchate of Basra, Iraq and the Gulf
Syriac Catholic Patriarchal Exarchate of Jerusalem (Palestine and Jordan)
Syriac Catholic Patriarchal Exarchate of Turkey
Syriac Catholic Patriarchal Dependency of Sudan and South Sudan (formerly 'of Sudan')
Overseas diaspora
Syriac Catholic Eparchy of Our Lady of Deliverance of Newark, New Jersey for the USA (11 parishes)
Syriac Catholic Apostolic Exarchate for Canada (6 parishes)
Syriac Catholic Apostolic Exarchate for Venezuela
Syriac Catholic Church in the UK
Syriac Catholic Church (Syria & Iraq; West Syrian Rite)
Holy Trinity Catholic Church, Brook Green, London W6 7BL.
Holy Qurbana in Arabic & Aramaic, 1pm
Mgr Nizar Semaan
41 Brook Green, London W6 7BL

[email protected] / tel. 07769 352525